Performance. Security. Affordability.
Zero added licensing.


Familiar Windows 10 experience.
Say hello to the world's first $100 enterprise-class Windows 10 PC.
Today's PCs are so powerful that a typical user only consumes a tiny fraction of the computer's capacity. Harness your unused capacity to deliver increased value. Stop managing hundreds or thousands of PCs. One single PC can support 30-50 workstations, each with its own monitor, mouse, keyboard, and a fully-independent, secure, and familiar Windows 10 computing environment.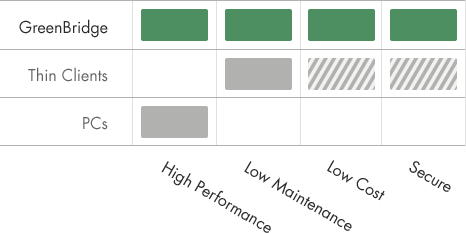 GreenBridge Computing offers a unique plug-and-play solution with superior performance and unmatched affordability, tailored to your organization's unique needs – whether you have 10 computers or 10,000.
We work with Global 100 enterprises, serving organizations from Microsoft and Daimler to the smallest schools and nonprofits on the planet. Build your own solution or rely on us for all your needs, including software, hardware, consultation, training, and support.